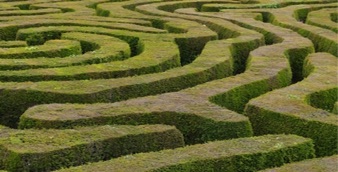 My blog is called Chat with Chicules. What they couldn't teach you in business school. Because I believe you have to live it to get it. Certainly I believe in the power of education and I also believe in the power of experience. It is not easy to navigate today's business environment to achieve success and you need education and experience to get you to the other side.
I was somewhat unprepared for the business world. I thought my task would be clearly laid out as it is in school, I would work hard, and one person my boss, would say ok or no more work needs to be done and I would be off… I didn't know that I needed to keep my head up long enough to see what was really going on around me. I didn't really understand that my ideas would need to be presented and critiqued by panels and levels and groups of people before I could move forward. I did not understand business politics or the importance of networking.
In the business world, the assignment is not always clear, levels of authority and accountability are not clear and the people you work with are the same people you did those school projects with – you know some do the work and some don't…. And the stakes are higher, people don't always make decisions that are in the best interest of the company or the team or the assignment; sometimes they make decisions that are in the best interest of themselves, keeping their job or pleasing the boss. There is also a lot more emotion involved, a lot more fear and worry and concern about making a mistake.
In my blog I want to share my experiences, in navigating through the business world today. The importance of understanding standing business politics, assessing and redirecting people's fears to gain buy-in and developing your skills as a leader to deliver the results you want.
I am going to chat about:
driving innovation in a risk adverse culture,
creating a culture where people are not afraid to make a mistake but are inspired by the freedom to fail,
how to get people to say yes to your ideas when everyone is empowered to say no,
the idea that leadership is about leading through influence instead of authority,
building trust in your team so you can create corporate athletes
And having the courage to be a jungle lion instead of a zoo lion in today's business world ….and much more…
My experience comes from working in many different sectors: advertising, corporate and not for profit. I have been in the role of employee, entrepreneur, intrepreneur, Board Chair and staff and consultant…I have worked with over 50 different companies like: Nike, Coca-Cola, General Mills, The Heart and Stroke Foundation, Leo Burnett, JWT, Tim Horton's, and McDonalds. I have had the privilege of observing a range of cultures, leadership styles and organizational effectiveness. All of this experience has provided me with insight into how to tackle different types of business challenges – how to approach them, what can get in the way, the barriers to success and how can you overcome them.
So in my blog…this is exactly the type of thing I will be writing about… I will speak with candor about what really goes on, challenge preconceived notions and to inspire – how to navigate the business world today – It's what they couldn't teach you in business school because you have to live it to get it…
And I'd love to hear from you on any business challenges you may be facing – you can always email me at chatwithchicules@rogers.com and again I'll do my best to answer your questions as soon as possible. Or your question may become a topic of my blog.
Image credit: Adam Heath from flickr